With an almost overwhelming number of interesting and well-prepared proposals for presentations, workshops and sessions, the 12 hard-working programme committee members from five Nordic countries spent a concentrated day and a half at the DANVA office in Copenhagen, bringing all the pieces together for the complete conference program for NORDIWA 2017, which is now ready for download here: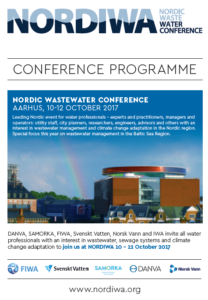 Three overall themes
Wastewater treatment, drainage systems and climate adaptation were among the clear winners when it came to suggestions for presentations. These were divided into three main categories.
The conference's three main themes are:
– New approaches to Wastewater treatment – Plants, Processes and Circular Economy.
– The need for an integrated approach to the sewage system, including management systems.
– Adapting to consequences of a changing climate.
In addition, there are several cross-cutting issues such as the Baltic Sea Region and the promotion of innovation in the Nordic region. Based on themes and suggestions, the complete programme is now available with titles of the individual sessions.
Great venue makes room for 207 presentations
The two main venues: Comwell and Centralværkstedet in Aarhus, allows us to arrange 36 sessions and workshops and 12 thematic poster sessions. In total 230 abstracts were submitted to […]