With an almost overwhelming number of interesting and well-prepared proposals for presentations, workshops and sessions, the 12 hard-working programme committee members from five Nordic countries spent a concentrated day and a half at the DANVA office in Copenhagen, bringing all the pieces together for the complete conference program for NORDIWA 2017, which is now ready for download here: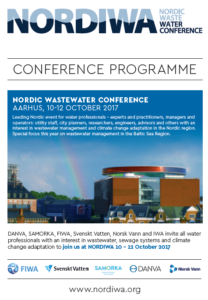 Three overall themes
Wastewater treatment, drainage systems and climate adaptation were among the clear winners when it came to suggestions for presentations. These were divided into three main categories.
The conference's three main themes are:
– New approaches to Wastewater treatment – Plants, Processes and Circular Economy.
– The need for an integrated approach to the sewage system, including management systems.
– Adapting to consequences of a changing climate.
In addition, there are several cross-cutting issues such as the Baltic Sea Region and the promotion of innovation in the Nordic region. Based on themes and suggestions, the complete programme is now available with titles of the individual sessions.
Great venue makes room for 207 presentations
The two main venues: Comwell and Centralværkstedet in Aarhus, allows us to arrange 36 sessions and workshops and 12 thematic poster sessions. In total 230 abstracts were submitted to the conference.
The Program Committee had a clear ambition to accommodate as many of the proposals as possible for the conference and we are pleased to note that we managed to accommodate 207 posts, all of which are qualified and relevant in the various types of sessions:
– Conference sessions with presentations and time for short discussions of the topics.
– Workshops where the purpose is to share knowledge between participants with plenty of time to discuss challenges countries in between.
– Thematic poster sessions. More than 40 participants will be able to briefly present their entries to everyone during this session. Additionally, everyone with a poster gets the opportunity to deepen their entries individually for the participants in the session.
Future Wastewater Treatment Plants, Cross-sectoral Cooperation for Climate Change Adaptation and Inflow and Hydraulic Modeling for Sewers are some of the first sessions in the programme. Here you can hear about experiences from Malmö and Lund, and from Finland, as well as a case on how to involve private companies in climate change adaptation.
There will also be a special focus on environmental challenges in and around the Baltic Sea at the conference this year with both speakers and a workshop with German and Estonian researchers.
Technical tours and social activities
The social programme is also in place with an opening reception at AROS and dinner at Centralværkstedet. On the last day there will be an opportunity to participate in different technical tours to Renseanlæg Øst in Aalborg, Billund Biorefinery, Marselisborg Wastewater treatment plant or go on a climate change adaptation trip around Aarhus.
Registration and Early Bird fee
The registrations for the conference has already opened. To sign up now or for more information about NORDIWA 2017 please click here: https://kongresk.eventsair.com/nordiwa2017/nordiwa2017/Site/Register
Please keep in mind that the Early Bird discount rate expires on August 31, 2017.
About NORDIWA
The 15th Nordic Sewage Conference, NORDIWA, is organized this year by DANVA. NORDIWA is a collaboration between the Nordic industry associations and the Nordic IWA national committees. The program committee has representatives of DTU, Aalborg University, Aarhus University and DANVA sister organizations from Norway, Sweden, Finland and Iceland as well as DANVA.